Erection Fitness is a penis exercise program designed to enlarge the penis. It utilizes various techniques to add length and girth while improving the quality of erections and increasing stamina in the bed room. The company claims to be able to "add measurable inches in 120 days".  There are no drugs, gadgets or surgery. Although, we would still recommend a good penis extender to supplement your workouts.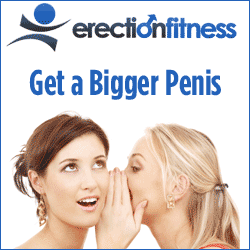 Other potential benefits include the following:
Longer & Thicker Penis
Higher Sex Drive
Better Performance
Orgasm Control
Curve Straightening
Erection fitness is a 'members only' website which features loads of content in a well structured and organized manner. It does cost money to join ($97), but it comes with VigRx Plus pills and VigRx Oil which is a $133 value by itself! If you invest in the EF program, you basically get a massive discount on the the pills and oil while getting access to the EF program for free.
About The Program
Upon receiving membership to the Erection Fitness program, we were enabled access to the members only section of the website. There was a table of contents with 5 main sections.
Section 1: Charting Progress
This section of the guide discusses a variety of penis measuring techniques and teaches you how to measure your penis accurately and consistently. It provides techniques for both length and girth measurements and provides a way for you to determine penis volume.
This section also explains some important ideas when it comes to charting your progress. It makes recommendations about how to plot your data and when you should take measurements. In fact, many of these techniques is what we utilized in our own PE Studies.
Section 2: Beginner's Guide
This section reviews a lot of information that you may already know, but it is good to get a fresh take on some of the concepts such as the importance of warm ups, basic jelq techniques, special massages, stamina work and cooling down.
The best part about this program is the availability of videos so you can watch each technique and fully understand what's going on. The videos demonstrate each exercise and includes audio to further explain.
In this section, you are given a schedule of workouts which include a variety of jelqing techniques, kegel exercises, manual stretches and more. This schedule will take 49 days (7 weeks) to complete and should provide a very solid foundation for a more advanced PE routine. For those who are experienced PEers, it may be beneficial to stick with the program but supplement your routine with traction device use and occasional pumping sessions.
Section 3: Advanced Training (part A)
By the 8th week, things start getting pretty intense. You should already see some permanent growth at this point, but now it's time to accelerate those gains. This is often when people experience a 'plateau' in their routine which is why it's a great time to move on to the advanced techniques.
In this section, a variety of "non-jelqing" exercises are introduced, specifically squeezing techniques. They refer to a "jelq-free" routine and combine that with some new stretches that hit on different angles than before. Again, the videos provided are great instructional tools.
For the next 4 weeks (the duration of this section) you are given a new schedule to follow, step by step. The instructions are clear and well defined. The main purpose of this section is to increase the intensity of your penis enlargement routine. In the next section, the aim is to increase volume.
Section 4: Advanced Training (part B)
This is the final phase of the Erection Fitness program and it focuses on doing MORE. Spending more time doing the already intense exercises you've been taught.
This section also distinguishes several techniques and splits them up so that on one day you focus on girth, and the next day you focus on length. Intermittently, you will also perform some stamina enhancing exercises as you recover from the length and girth exercises.
By the end of this cycle, you will be stretching your penis for nearly 6 hours and completing as many as 342 jelqs. After day 127, your penis can finally rest.
Section 5: Cementing Gains
The final phase of the routine is dedicated to 'cementing gains', ie making your growth permanent and sustainable. Whenever you end a penis enlargement routine, it is inevitable that you will see a slight decrease in size if you were doing it right. That is because the penis is so adaptable to stress that it easily undergoes changes in length and width as you apply stresses. While there is temporary inflation and fluctuations, the penis will normally regress back to some extent.
The next 4-8 weeks of this program will help reduce that regression and make more of your growth permanent.
The gist of this phase is to basically slowly decrease your workload rather than stopping all at once. However, if the program really works, why would you want to stop now?! You can easily continue the program on your own or take a short break and start over.
Dealing With Injuries & Soreness
The Erection Fit Program has an entire section dedicated to potential problems and health issues that you may encounter along the way. For any of these conditions, you should really see a health professional, but EF does provide some useful information so you can prevent and treat some of these conditions such as bruising, strained ligaments, thrombosed veins, discoloration and peyronies disease.
Conclusion
There is no doubt that following this routine will effectively enlarge your penis. It will increase length and girth as demonstrated in our own published studies. While much of the information is available online in scattered bits and pieces, there are definitely some advantages to the Erection Fitness program.
First, the videos are incredibly helpful. Every technique they discuss has a corresponding video so you can make sure you are doing it correctly.
Second, the navigation and usability of the platform is highly intuitive and efficient. It's very simple to log on and continue right where you left off. The scheduled format makes it easy to keep tabs and to make sure you are doing the program properly from start to finish.
Third, you get $130 worth of penis pills and nutritionally fortified lubricant which is great for wet jelqing.
And Finally, customer support is available in case you need assistance, have specific problems, or are unsure about something in the program.
Please click the banner below to learn more about the Erection Fitness Penis Enlargement Program.